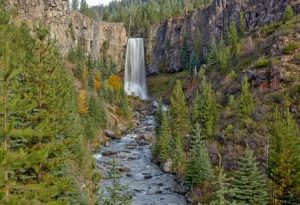 Located at the foot of the Cascade Range in the heart of Oregon, Bend is a small city that commands a lot of respect within the State. Enveloped by a giant forest of Juniper shrubs and ponderosa pines, the city claims to offer all kinds of attractions for the avid adventurer. Below is a list of things to do on your next trip to this beautiful Oregonian city:
Established in 1990, the monument is one of the most scenic and fascinating attractions in Bend. It is known for its gorgeous landscape formations, beautiful vegetation, and clear blue waters among other things. Being part of the great Deschutes National Forest and spanning an area of 55,500 acres, the Newberry National Volcanic Monument is the ultimate destination for activities like hiking, camping, sightseeing, bird watching, and sport fishing. It is one of the many spots you can't afford to miss within the city.
Explore the wild side of Oregon at the High Desert Museum
Billed as one of the premier attractions in Deschutes County, the museum is located on the city's outskirts and covers an area of 135 highly forested acres of land. The main aim of this beautiful nature preserve is to protect and showcase the high desert habitat for generations to come. Some of the main highlights of the facility include a simulated high desert habitat where the kids can play, live animal exhibits, and some priceless historic attractions and landmarks.
Go on a hiking trip to the beautiful Tumalo Falls
Also located on the outskirts of the Bend, Tumalo Falls is one of the most captivating places to spend a day with your loved ones; and it's only accessible through hiking. All you have to do is hike your way up the Tumalo creek, taking in the refreshing beauty of the surrounding vegetation, until you get to the stunning 100-foot fall. You can play with the water, ford the creek, or just sit on the side and get dazzled.
For students of history, the Deschutes Historical Museum is another fine attraction in Bend city. The museum houses every available piece of Deschutes County's history starting from the pre-colonial era. Displays include photographs, paintings, dioramas, artifacts, and letters among other things. The museum building itself was constructed in the early 1980s and is itself a historical landmark of the city.
Other notable activities include skiing, shopping, cave explorations, white-water rafting, boating, canoeing, paragliding, and snowshoeing just to mention a few.
And while you enjoy doing research on things to do in Bend, Oregon, if you're in need of financial planning, Ascent Capital is here to guide you. Schedule an appointment to meet our trusted team. We look forward to hearing from you!