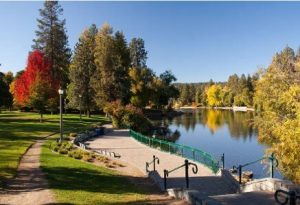 Although Bend a city in Oregon is famous for its many tourist attractions and outdoor recreational activities that attract people from all over the United States, the city is also home to some prestigious residential communities and neighborhoods. As such, the city has a fast-growing population of a little below 100,000 residents. This article takes a look at some of the most famous residents and former of Bend, OR:
Born in the city of Pasadena, California, Hait is a retired professional swimmer and former world record-holder in the Olympics. He rose to fame in 1960 during the Summer Olympics after breaking two records. Hait currently lives in Bend.
Horner is an accomplished road racing cyclist who was born in Japan but currently lives in Bend, Oregon. The 2013 Vuelta a España star man is a member of UCI Continental's Team Illuminate and is considered one of the fastest outgoing road racing cyclist of our generation.
Kerr was a devoted conservationist and wildlife biologist who hailed from the beautiful city of Portland, Oregon. He is the founding father of the High Desert Museum in Bend where he lived for most of his adult life. Having managed the facility for 16 years, he helped lay the foundation of what is now one of the most prized tourist attractions in Central Oregon. Unfortunately, Kerr's obsession with birds of prey became the death of him; he was infected with a deadly virus from the talons of a great horned owl. To honor his contributions to the facility, the museum launched a "birds of prey center" in 2001 and named it after him.
Popularly known as "Buck", Knight is an American multimillionaire who is credited with co-founding Nike, Inc. He previously served as the company's chairman and CEO prior to his retirement. According to a list released by Forbes in late 2019, Knight is among the top twenty richest people in the world. He spends most of his time in his La Quinta home in California with an occasional visit to his seasonal residence in Bend, Oregon.
Cutter is a retired professional alpine ski racer and a native of Bend who rose to fame after recording the first American win in the 1968 Olympics in Olso, Norway. During her three year career on the international stage, Cutter produced five career victories, a record that would remain unsurpassed for over a decade. She currently runs a publishing business in Bend, OR.
Other notable residents and former residents of Bend include Ashton James Eaton, Drew McQueen Bledsoe, Robert D. Maxwell, Chino Moreno, Jeremy Roloff, Beckie Scott, and Andy Tillman.
And while you enjoy doing research on famous people from Bend, Oregon, if you're in need of a trusted financial planner, Ascent Capital is here to guide you. Schedule an appointment to meet our trusted team. We look forward to hearing from you!