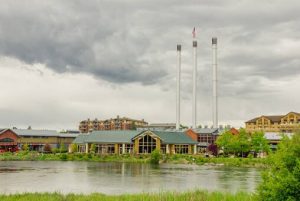 Considered one of the largest and most complete "playgrounds" in the United States, Bend city offers more attractions and recreational activities than any vacationer can handle in one visit. From beautiful snowy mountains and scenic forests, all the way to dark caves and sparkling waterfalls, the city has it all. For those who are lucky enough, the city also hosts a number of annual events and festivals that are both entertaining and fun for the whole family.
Below is an overview of some of the most loved Annual events in Bend, Oregon:
Subaru Outside Games
Organized by several local non-profit organizations, the Subaru Outside Games is a four-day family fun extravaganza aimed at celebrating the city and its people. The festival takes place in late July and features all kinds of fun activities including games, music, live entertainment, funfair, and concerts. There are also food vendors and finely crafted local beers for the adults. What better way to celebrate your stay in the city than attending one of the most loved annual events in Deschutes County.
This is a popular music concert series in Bend that lasts throughout the summer. Hosted by the Athletic Club, the organizers throw at least one concert every two weeks. You can bring your lawn chair and food and turn the event into a picnic or you can choose to stand and dance your way into the night.
Munch & Music
Intended to unite the people and promote the local economy, the Munch & Music festivals feature everything from art displays and exotic local brews to tasty cuisines from regional food vendors and live entertainment. The festival runs between mid-July and mid-August.
Bend Summer Festival
Spanning a total of three days, the Bend Summer Festival is another family fun event that transforms the city's downtown area into a huge party. Highlights of the festival include booths, live music, food vendors, a kid's corner, and much more. The event attracts thousands of local residents and visitors every summer season.
Newberry Arts & Music Festival
If you love art and other finer things in life, the Newberry Arts & Music Festival is an event you cannot afford to miss. The festival is hosted by the city of La Pine, just a few minutes away from Bend, and features all kinds of fun activities including live music, art displays, yoga, vendors, and camping. The proceeds of the event are donated to a local non-profit organization.
Other notable local events are; Sunriver Music Festival, Bend Brewfest, Sunriver Art Fair, Bend Oktoberfest, Art in the High Desert, Theater in the Park, and Bend Fall Festival.
And while you're enjoying the Annual events in Bend, Oregon, if you're in need of a trusted financial advisor, Ascent Capital is here to guide you. Schedule an appointment to meet our trusted team. We look forward to seeing you!